A century ago Hans Henning Ørberg, the well-known Danish teacher and scholar, was born. His textbook, Lingua Latina per se illustrata, has made Latin accessible to many tens of thousands of young people, and has been used by many successive generations of students and other learners.
From the 1950s to the last days of his life he tirelessly worked to improve Lingua Latina, both by writing some ancillary books and devising other teaching aids, and by reviewing and polishing the two volumes with the care and diligence of a monk.
Today, on the anniversary of his birth, we present you an interview that he granted us in April 2008.
We remember Hans Henning Ørberg with gratitude, and thank him deeply, every day.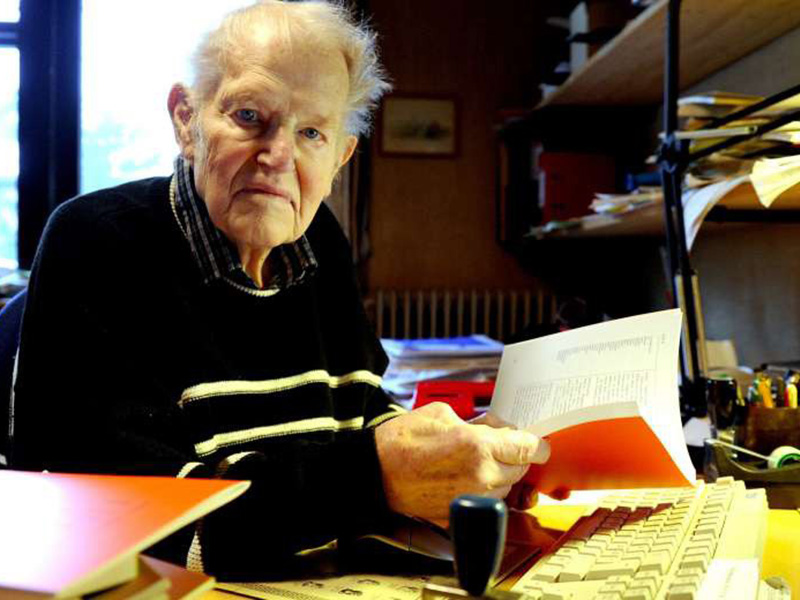 Dicas, quaeso, nobis, humane professor, quando Lingua Latina per se illustrata sit composita et quibus de causis.
Institutio mea Latina, annis 1951-55 composita, primum annis 1955-57 in fasciculis edita est sub titulo Lingua Latina secundum naturae rationem explicata (nova editio anno 1965 in quattuor voluminibus ad usum scholarum prodiit). Annis 1980 et 1990-91 libros funditus retractatos atque emendatos sub novo titulo Lingua Latina per se illustrata edidi in duobus voluminibus: I, Familia Romana et II, Roma aeterna. Causa libros conscribendi fuit taedium discipulorum, cum eos ratione vulgari et tralaticia docerem.
Quae sunt, tua sententia, causae huius taedii de quo loqueris?
Taedio afficiuntur multi discipuli cum cogantur formas ac leges grammaticas ediscere atque singula vocabula in glossario quaerere antequam incipiant sententias Latinas pedetemptim explorare atque interpretari, id est ad verbum in suam linguam vertere. Hoc modo non legere discunt, sed potius aenigmata solvere, id quod plerisque discipulis legendi studiosis fastidio est.
Quomodo tuis libris illud taedium discuti posse arbitraris? Quid ergo de interpretationibus quibus discipuli insudare solent?
Credo taedium illud discuti posse si discipulis fastidiosis offerantur lectiones concinnae atque festivae quae per se intellegantur (ut supra declaravi). Ita non opus est cum taedio interpretationibus insudare. Meis libris eiusmodi lectiones praebere tempto.
Quae sunt huius operis notae praecipuae quae hunc librum distinguunt a communibus methodis tralaticiis quibus pueri linguam Latinam discunt?
Institutiones tralaticiae incipere solent a praeceptis grammaticis ediscendis et singulis vocabulis interpretandis. Mea opinione incipiendum est ab integris exemplis legendis quibus plane illustrantur formae legesque grammaticae et significatio vocabulorum.
In libro meo lectiones ita ordinatae sunt ut inde ab elementis omnia deinceps vocabula itemque res grammaticae ab omni discipulo intellegantur, cum significatio vocabulorum atque usus grammaticus perspicue appareat ex ipsa iunctura verborum sive contextu orationis. Ita discipuli linguam Latinam quasi recta via discunt, neque est quod vocabula vel sententias in suam linguam vertant.
Quo melius rectiusque liber tuus in scholis adhibeatur, suntne, tuo quidem iudicio, magistris necessariae peculiares quaedam facultates?
Opus est magistris qui student doctrinam suam ita instaurare ut discipuli Latine sine taedio atque cum delectatione legentes 'cito, tuto, iucunde' discant. Credo me libros scholis offerre quibus utendis omnis magister hoc assequi potest.
Quae est meta quam hoc libro affectare voluisti? Putasne te eam esse consecutum?
Meum est propositum ut disciplinam Latinam discipulis faciliorem, efficaciorem, acceptiorem reddam. Non meum, sed magistrorum est iudicare an hoc propositum consecutus sim.
Si tibi, qui linguae Latinae impense operam dedisti, proponatur ut persuadeas puero quindecim annorum ut Graecam Latinamque linguas discat, quibus argumentis id facias?
Argumentum praecipuum est momentum et praestantia litterarum Latinarum (et Graecarum). Lingua Latina ianua est ad humanitatem artesque antiquitatis et medii aevi cognoscendas. Praeterea studium eius linguae ingenium acuit, atque viam aperit ad vocabularium Europaeorum commune.