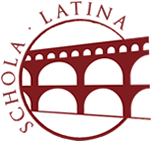 Schola Latina
We teach all levels of Latin (and Greek), from beginning to advanced.
And we do this in Latin (or Greek).
What do we offer?
In addition to our scholae per Rete (long-distance lessons), we offer scholae aestivae in Italia (an intensive summer course at the advanced level) and scholae Romanae
(at all the levels).
We also offer courses in the teaching of Latin and Greek by the nature method (
scholae pro magistris
).
Furthermore, we are willing (provided a sufficient number of people are interested) to send our teachers to give an intensive course (scholae ubique).
Finally we organize
guided tours
to the ancient Roman and Greek monuments of Italy, with explanations and readings of classics, entirely in Latin.

Our blog
About the classical languages and their teaching.