Hoc die, 14° mensis februarii, sanctum quendam, Valentinum nomine, coli vix est qui ignoret, qui sponsorum sponsarumque patronus esse dicatur. Unde autem orta est haec traditio? Ad hoc interrogatum non tam facile est respondere.
Perpauca de sancto illo martyre scimus. Quibus studia haec hagiographa in deliciis sunt, legant ea quae anno 1658° bollandianus quidam vir scripsit (bollandiani vocantur coetus quidam jesuitarum qui ab Johanne Bollando nomen ducunt, quique inde ab anno 1643° Acta sanctorum ratione vere critica magnaque cum diligentia ediderunt). Multa ibi discetis quae de sancto Valentino presbytero, Romae anno ut videtur 269°, imperatore Claudio II Gothico, in odium fidei interfecto, traduntur; et de sancto ejusdem nominis urbis Interamnae (quae hodie 'Terni' dicitur, in Umbria) episcopo, ac martyre. Suntne hi duo unus revera idemque vir? Difficile dictu; ac difficile pauca vera a multis falsis in his narrationibus secernere. Utut res sese habet, nil ibi invènimus quod cum sponsis eorumque patrocinio ullo modo conjungi posset.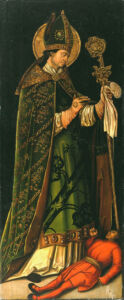 Ni igitur fallimur, potius quam cum ipso sancto, traditio haec cum hodierno die, quo is colitur (est enim ejus dies natalis, id est martyrii), conectenda est.
Medio mense februario Lupercalia celebrabantur, quod festum turpibus saepenumero libidinibus inquinabatur. Fuerunt igitur qui putarent sanctum illum martyrem, cujus festum tum ageretur, a prisca christiana Ecclesia, quasi exemplum puri castique amoris, Lupercalibus opponi coeptum esse. Hoc tamen non facile admittendum videtur, praesertim cum, quantum scimus, non ante mediam aetatem pueri puellaeque (vel viri feminaeque) inter se amore conjuncti festum suum, ut ita dicamus, proprium ac peculiare hoc die celebrare coeperint.
Hujus rei testimonia saeculo XIV inveniuntur haud pauca, et quidem in Anglia; vix autem, ni fallimur, antea, vel alibi. Conjicere igitur licet, nostra quidem sententia, ejus originem in traditionibus popularibus anglorum illius aetatis (angli qui nunc sunt folk-lore dicunt) quaerendam esse; nil autem definitius, fortasse, dici potest. Sed his diebus frigora minora sunt, et ver, quo tempore, ut ait Petrarcha,
l'aria e l'acqua e la terra è d'amor piena,
ogni animal d'amar si riconsiglia,
jam incipere videtur.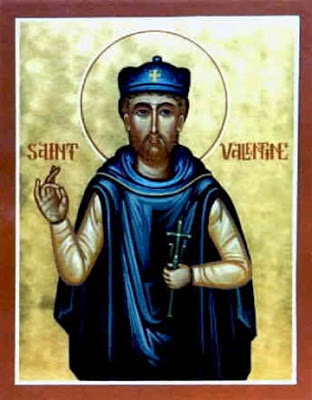 Primus talis festi mentionem fecisse videtur Godofredus Chaucer, in Senatu avium: en ejus verba, in sermonem recentiorem, et orationi solutae consentaneum dicendi genus, conversa:
For this was saint Valentine's day, when every bird of every kind that men can imagine comes to this place to choose his mate.
Post separatam quoque anglicanam a romana Ecclesiam, et sanctorum cultum abolitum, non minus quam antea hoc festum in insula illa celebratum esse videtur. Testis sit Hastiquatii (id est Villelmi Shakespeare) Ophelia:
To-morrow is saint Valentine's day,
all in the morning betime,
and I a maid at your window,
to be your Valentine.
Recentissimis denique decenniis, moribus non quidem anglicis sed americanis ubique nimis, ut verum confiteamur, serviliter receptis, ceteris quoque in Europae gentibus aliisque mundi partibus festum hoc, mercatoribus in primis ad id impellentibus, coli coeptum est. Quod etsi minus placet, facere tamen non possumus quin hanc occasionem sumamus ut iis omnibus et singulis qui inter nos ament prosperrimum successum ac puri amoris gaudia, sancto Valentino intercedente, ex animo precemur.
Thomas Franciscus Burrus,
sive vulgo Bórri